Friday morning we had our Christmas with Landree since we'll be leaving for Texas today. Her 'big' present from us was an art easel and art supplies. Every note that she brings home from school says something like loves to paint, or enjoyed painting, enjoyed crafts. She 'painted' 3 pictures this morning with her new 'Go Paint' by Elmer's. This is awesome and it only paints on their special paper-love it! Then we headed to IHOP for breakfast and ran errands-we even ran into Santa at Walmart. It was really neat because we turned a corner and he was just standing there in the middle of the isle. She loved talking to him and he gave us a pepermint stick. Friday night we went to one of the college guys house for his birthday, Happy Birthday Jamie! I love Fridays, but this one was even better because it was an extra day of Christmas!
Jeff left this special message for Landree on her magnetic dry erase board. It only came with 2 sets of the alphabet. Mi is getting her a few more sets for Christmas (then we can teach her to spell correctly:)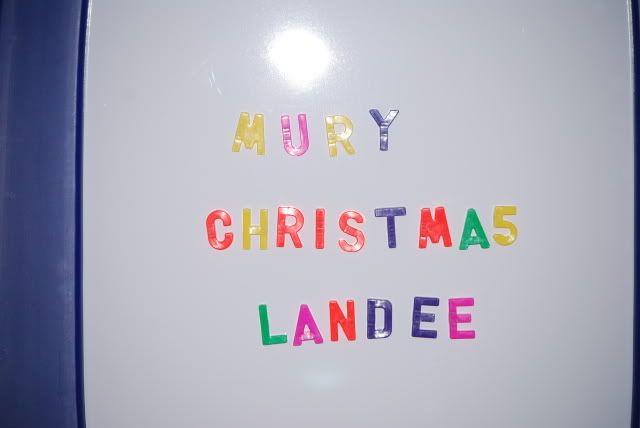 Her stocking was hung (on the TV cabinet) with care. Don't you love this Shabby Chic stocking from Tarjay? My friend Jennifer called it over the top-we had to have it! That is a crown pin!
Coming in to see her presents:
Opening stocking stuffers:
Enjoying her easel: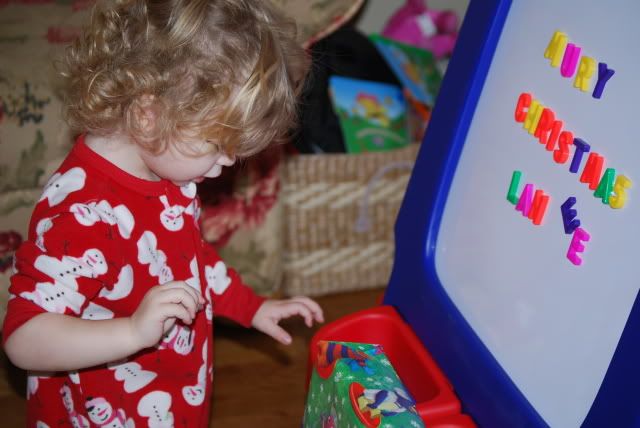 Merry Christmas! I hope to keep my blog updated while we are out of town, but if past performance indicates anything I wouldn't hold my breath if I were you.