Christmas Eve we had lunch at Megan's parents house. A tradition we've had for at least the past 7 years. This year we had chicken salad sandwiches on croissants with tons of yummy dips, a cheese ball, snacks, and desserts. YUM! Snacky type food are just about my favorite! Megan has twin nephews that are 4 1/2-Blaze and Blade. Megan and her husband Jeff gave the boys transformers for Christmas and it took just about everyone there to figure out how to work them.
Jeff's turn: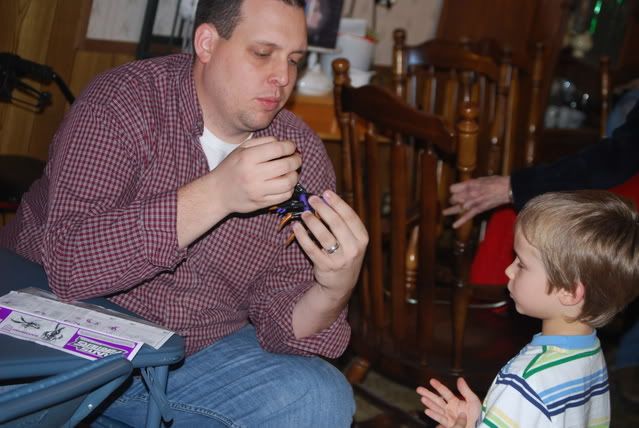 Like this:
The boys are not identical twins, but Blaze was the only one posing for me :) Cute, huh?
Megan and I (and I realize that's the same shirt I was wearing in yesterday's post, but it's been a few days since Christmas Eve and we only bring home so many things now that the airline charges a fortune for our baggage!)
Christmas Eve we had plans to go to my Granddaddy's house, but Landree had a cold and was super tired and fussy because she didn't nap well so Momma and Daddy went without us and we put Landree to bed early. It was a good choice. She was so tired!
Christmas Day coming soon!