I am so grateful to the Lord for our family group. These people really are our family since we are so far from home. When we first moved to SC 6 1/2 years ago I hated it. There really wasn't one thing I liked about it here, but God is gracious and he gave us a wonderful church home and a group of friends that I wouldn't trade for the world. As much as I'd love to move home someday it will be just as hard to leave here because of how much they mean to us. We celebrate holidays together and have had babies together (Congratulations Shane and Brenda!-they are expecting their first!) and lots and lots of fun!
Saturday night we had our annual Christmas party which meant lots of good food, fun, and our ornament exchange and white elephant gift swap. I got a beautiful lime green glittery Christmas tree and our white elephant gift was a vibrating, warming foot massager. There were many who weren't as luck as we were. The goal (for us who've been playing the longest) is to bring the absolute worst gift you can that no one would want. There were several of those.
The Turner's are proud owners of a new piece of excersice equipment that no one knew how to operate.
Glenn got a very inappropriate monkey. This has made more than one appearance in our trade.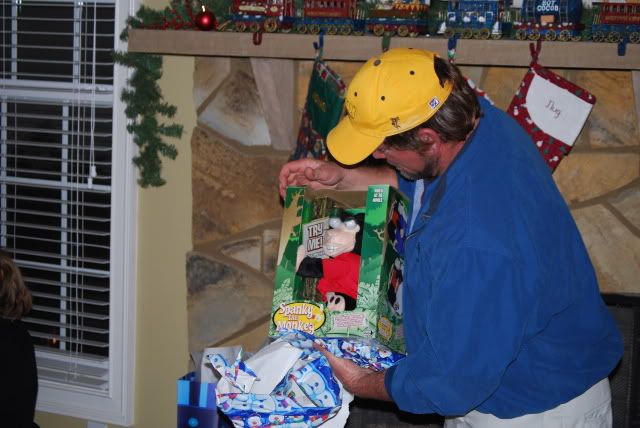 Red is ready for a game of baseball:
Ms. Jean is ready to decorate her house for Christmas-I can speak to the fact that at least half of those lights work since we gave this gift. We actually had our house decorated completely tacky...um...I mean beautifully a few years back while we were at dinner with friends. They even had a blow up penguin on our roof. When we pulled into our neighborhood I thought it was our neighbors house that look so awful and when we got closer I realized it was our house!!! We were a little hesitant to part with these items because it gives someone else the opportunity to use them! We gave the plastic cow away last year.
Other gifts included a box with a bag of mortar, a candle holder, a candle (they didn't understand the game) and a Green Bay Packers hat.
The group (minus the Woodham's who had already gone, Jennifer feeding the baby, Ms. Jean taking the picture, and the Powell's you can't really see in the back)
Merry Christmas Family Group! We love ya'll and are so glad you count you as family!