We've been having such a great time with our family and friends since we've been home. We've been here 2 weeks now and the time has flown. I thought a 'review' might be the best way to record everything we've been doing the last week so...
Last Saturday we celebrated an early Christmas with Angie's (Jeff's mom) brothers and their families. We ate (of course) and did a Christmas exchange. Jeff and I ended up with a
variety box of Popcorn Factory Popcorn
! YUM! And a movie. We've been snacking on this stuff every night while watching movies, playing Wii, and blogging :) I think I'm going to need bigger jeans in January.
Angie and her brothers:
My sister in law: She just got a new Cannon Rebel for her birthday.
Brian showing off a Christmas bowl-I don't think he ended up with this.
Jeff's dad stole this cool basketball goal from uncle John. Can you see him shooting hoops in between seeing patients? They are sending this home with us for Jeff's office-score!
Saturday evening Jeff, Landree, and I went to Mesquite to visit our friends Julie, John, Teagan and Mattox. We are usually so rushed when get get to visit them because of work schedules, bed and nap times, etc. so it was nice to get to hang out at their house, eat pizza, hand let the kids just play. They just returned from Disney World the day before so Mattox was really into Mickey. He was so sweet to share one of his stuffed Mickey's with Landree. When it was jus about time for us to go Julie's mom and Dad stopped by to say hello. It was so nice seeing Debbie and Mike! Julie and John thank ya'll so much for Landree's dancing Barbies, new outfit and our OTB gift card!
Mattox really does't look that much like Mickey here's a better shot.
Sunday we went to church with Jeff's parents and afterward we ate breakfast at Cracker Barrel. They were having a great sale so we were able to sneak in a little bit of shopping too. My momma picked up Landree for a little time with her and Poppee while Jeff and I headed to
A Christmas Carol
with the Gray's. We go to the Christmas Carol every year. It's such a fun tradition and I can't wait until Landree can join us. It's really loud and a little scary (because of the ghosts) so I think it will be a few years before she will be able to go, but I think when she's older she'll really enjoy it. There are children in the play that we see every year. Several of them go to local art schools and they are all very talented. After the play we headed into Allen for dinner at Mi Cocina. Allen has 2 new huge shopping areas. It's amazing. The area where we went to dinner had a Cheesecake Factory, Brio, and PF Changs too. It was all lit up for Christmas and was absolutely beautiful!
Here are a few pictures from dinner: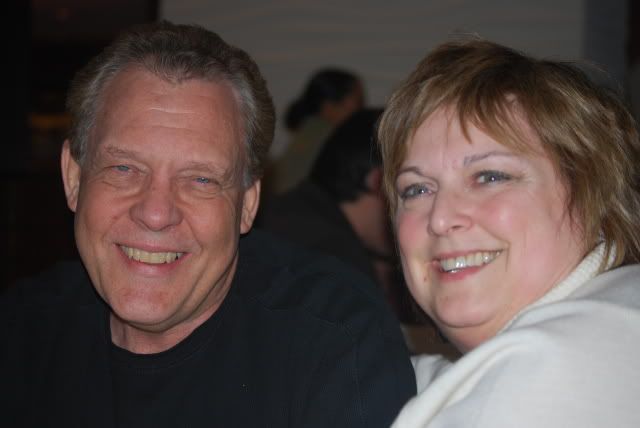 Maggie and I came too, I don't know where that picture went :)
Monday, Landree started getting sick so she and Mia just stayed home and hung out watching TV
all. day. long.
it was a yuck really cold day. This was the day that Megan and I had our marathon shopping day.
Tuesday, we hung out at my parents to let Landree rest as much as possible before all of the Christmas festivities began. Aunt Megan came over and we searched the internet for hours looking at baby bedding and blogging-pretty fun!
I plan to do seperate posts about our Christmas hoopla from Wednesday and Thursday.
Friday was another shopping day for me while Jeff, Aunt Gigi, Uncle Brian, Aunt Maggie and Aunt Krissy took the kids to the park while Grandma ran errands. Then they all met up for lunch at Chick-fil-a. Landree ate lunch and almost all of Jeff's milkshake. I was home by 2 in time for a nap and hanging out with Jeff's family for the evening.
Satuday we got up and played with Landree (more like she played with her new "Around Town" from Grandma and Papa). Angie made a enchilada casserole-my momma came over to eat and then took Landree home with her so we could go celebrate Krissy's birthday with Dinner in Ft. Worth.
Yesterday, Jeff and I slept in! What? On a Sunday-that's exactly the reason we did. We never get to sleep in and especially on a Sunday! We got ready and headed to Mi and Poppee's to see Landree! After Landree's nap we headed to Pasado's for dinner-yummy! And to Wal-mart for a few things...and now we're caught up. More posts to come!