Thanks to Shutterfly my Christmas Cards are done before December 23rd early this year!  And they look fabulous.  Now I just need to get them addressed and in the mail!  I actually did two different cards.  I made a folded card, and then decided to make a flat card with a list of 'thankfuls' after Landree's preschool teacher from last year gave me one of hers. (that's a run on sentence, huh?)  I love them both!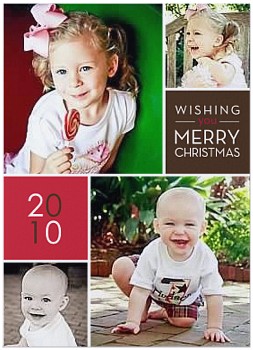 All Of Us Christmas 5x7 folded card

And as if getting free Christmas cards wasn't enough Shutterfly has another great deal going on where if you share your cards online (like we wouldn't?) you can get a free $25 gift card!  I seriously love Shutterfly even when I don't get free cards :)  Don't let this deal pass you by!  Click here for details!  This offer ends on January 31 and your $25 gift certificate will expire on February 15.